Frequently Asked Questions (FAQ)
What is the CODESYS Store?
The CODESYS Store North America is an online marketplace for CODESYS software products and is dedicated exclusively to customers in the USA, Canada, and Mexico. The CODESYS Corporation headquartered acts as a distributor. Various software products for engineering, runtime development, and administration can be downloaded from the CODESYS Store. More about the CODESYS system can be found on the CODESYS webpage.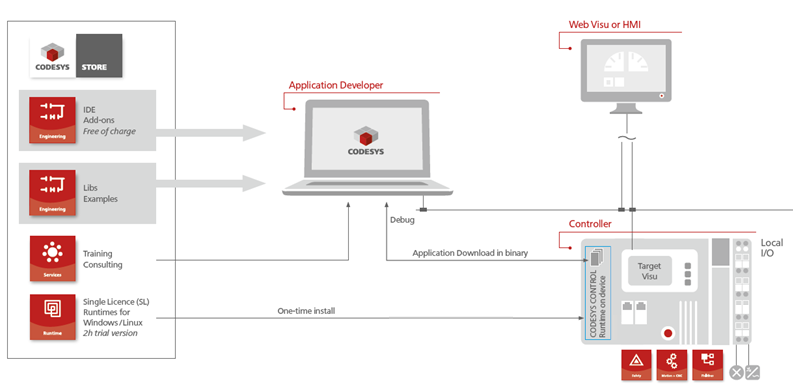 Which CODESYS version is supported?
All products are only available for version 3. The exact system requirements for each product can be found on the respective product page under the "System requirements" headline.
How does a purchase work?
The CODESYS Store is an online market place which offers payable and free CODESYS add-ons.
After registration you can download and use the offered software. Chargeable products are initially only available in a time-limited trial version. After your purchase, we will immediately send you a license key to the e-mail address provided. As soon as the license key is activated in the product, the trial version of the product changes into a full version without time limit.
How can I resolve a potential download issue?
There are two possible issues, which you could observe on pressing a download button:
You expect more than one download
This is an issue of your browser. Modern browsers do inhibit multiple downloads at once, which is used by the CODESYS Professional Developer Edition. Please deactivate the security setting for the CODESYS Store page.
You expect a different download package
For some products there is only one download package stored. The different features in this package are controlled via different license keys. For example:
CODESYS Control for Raspberry Pi has only one download package which contains the demo version, the full version and the multicore version.
Without a license key the package works in the demo mode (2h)
With the full license the package works in the full mode (no time limit)
With the multicore license the package works in the full mode with multicore support (no time limit)
I am registered as an employee of a company within a company account. Why can't I order products?
There are two possible reasons:
You do not have the "Administrator" privilege.
For companies with multiple people ordering from the CODESYS Store, the system automatically creates a company structure that provides for an administrator with special rights. The owner of this function is the only one who can order straight away. All other persons created in the structure can only order after approval by the administrator.
To find out which person from your company has administrator rights, click on the "Company Structure" menu in "My Account". The person at the top of the tree structure is currently the administrator of your company account. If you would like us to transfer the administrator function of your company to another person, do not hesitate to contact us-sales@codesys.com

. We are happy to assist you.
Your company account has not been cleared by the CODESYS Group.
In this case, we are happy to assist you. Please do not hesitate to contact us at us-sales@codesys.com
How can I manage my subscriptions in the CODESYS Store North America?
You can order, maintain, and cancel your subscription in the CODESYS Store North America.
Order:
Subscriptions can be ordered in two ways.
Subscriptions for multiple products in one cart
If you purchase multiple subscriptions in one cart, all of them will start and end at the same date and time. All subscriptions will be grouped in one payment transaction. If you wish to cancel, all subscriptions in the cart will be canceled.
One subscription per cart
This option allows you to start, maintain, and cancel each subscription independently.
Maintenance:
To update your payment method, please go to your Customer Account, select "My subscription profiles", and click the "Edit" button.
To add a new credit card, please select "Store Payment Methods" and click "Add new card". The details of your credit card will not be stored in the CODESYS Store, but be transferred to the Stripe account and linked with a secret key to the customer account.
Cancel:
Each subscription cart can be cancelled in the customer account section "My subscription profiles". Simply click the "Cancel" button.
How does payment in the CODESYS Store work?
Online payments have now become a matter of course. New concepts are constantly being developed to make payment safer. Two of them are called Payment Services Directive (PSD2) and Strong Customer Authentication (SCA). We use strong authentication methods to make payment in the CODESYS Store North America as secure as possible. So, whenever customers access their accounts online or trigger electronic payments, they are authenticated. This procedure is ensured by an add-on of the payment service provider. Please therefore always have devices ready for authentication before placing an order (e.g. TAN generator, online password, or cellphone), as otherwise delays or even cancellation of a purchase may occur.
Please contact your bank to learn more about the new possibilities of your payment account and the associated payment methods, such as credit card or PayPal.
What can I do if my registration in the CODESYS Store is not possible?
If your registration in the CODESYS Store is not possible, it may be due to your browser and its security settings. The following measures may be helpful:
Make sure that you are using the latest version of your browser.
Check whether the security settings of your browser allow the registration and use of the CODESYS Store. In general, JavaScript and access to the Google service https://gstatic.com must be possible.
If you are unsure yourself, please contact your IT department.
Where do I find more technical details?
Please visit the web based CODESYS Online Help: https://help.codesys.com.
What do I do with a license number?
The license number is a 25-digit number which is needed to activate the licenses purchased in the CODESYS Store. The activation can be done directly in the CODESYS Development System via the integrated License Manager or via the CODESYS License Central - an online platform under http://license.codesys.com.